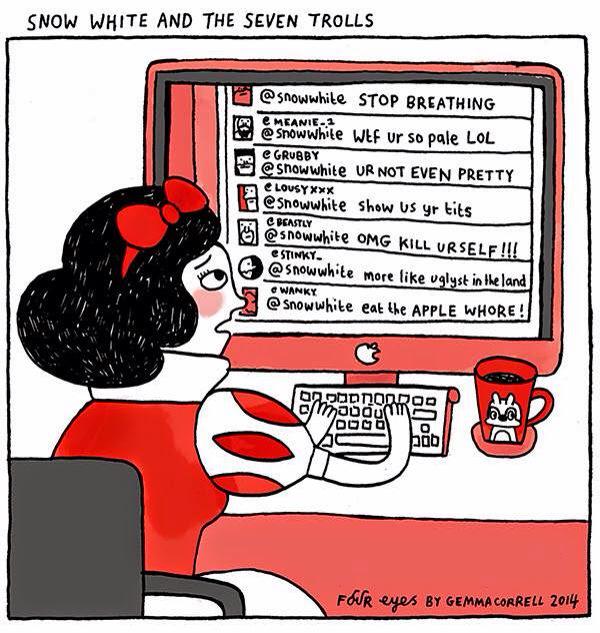 Internet feminism is enjoying a bit of a moment (as is internet misogyny, but more on that later…) with bloggers, twitter personalities, facebook groups and online campaigns shaping what is becoming known as feminism's fourth wave. The growth of this new feminism, which is often strongly intersectional, and therefore part of a broader sub-section of the internet that is rapidly defining identity politics online, is fascinating. On one hand, it has energised and inspired a new generation in non-party political activism and created a strong sense of community and momentum that many young people can struggle to find within their school communities. On the other, the type of discourse that has emerged is often lacking in the nuance that face to face engagement sees and suffers from the soundbite and mob mentality that seems to pervade any mass public online conversation.
This week I read a 6 year old paper about young women and the 'participatory possibilities of online cultures'. Written on the cusp of this wave, it observes that "the New technologies facilitate young women's capacity to play with gender and to resist feminine stereotypes" and I think this is definitely something that has proved to be the case. There is no doubt that the online debate around gendered toys  has impacted on the behaviour of brands and shops and this mass movement is a good example of how online conversations have promoted civic engagement. Other examples might be the campaign to get Jane Austen's picture on bank notes or more recent projects to challenge school dress codes. As the fly on the wall (and in the phone) Channel 4 documentary 'teens' showed recently, engagement in these kinds of online campaigns is not necessarily met with support in the offline spaces teens inhabit but encouragement and mentoring from an online community enables young people to continue to develop a voice and opinions.
Where I think the paper really missed the mark was in its comment that "For young women especially, these activities may provide less intimidating, more familiar modes for doing politics and for acting as citizens." Whilst its true that it is easier to find like minded individuals online, and that people do definitely develop political voices and find spaces to express them, those spaces are often felt to be in some way unsafe. The last few years have seen prominent feminists hounded off twitter by death and bomb threats, and young women at universities experiencing a surge in 'lad culture' on and offline. Much of these negative behaviours are facilitated by the anonymity and often impersonal nature of online interaction.
It's not just the behaviour of 'trolls' that is responsible for this 'unsafe' feeling, but rather something that runs deeper and reflects the challenge of 2D interaction with people.The largest student feminist online community (and offshoot of the oxford university 'zine' of the same name) has come under constant scrutiny for its development into what is perceived to be a heavily policed and self-censoring space where expression of ideas is often quite aggressively censored, prompting a number of students to publicly remove themselves from it. This criticism is probably true of a number of the fast moving conversations about identity politics online which have quickly developed their own vocabulary. It's exactly this kind of policing of ideas or that has been blamed in part for the 'closet tory' phenomenon at the recent election.
When I think about digital technology and civic engagement I therefore have mixed feelings. On one hand I do think it promotes a stronger sense of participation and momentum around political issues, making the debate accessible and keeping people engaged. On the other I worry about the tone of conversation and the lack of respect that comes along with it, I'm concerned that 'clicktivism' can become a substitute for real action, and I think that the nature of politics and civil issues fighting youtube and netflix for screen time potentially creates a paediatric and 'tweetable' conversation lacking in necessary nuance.